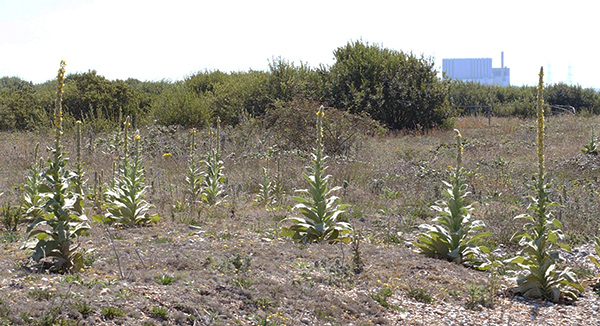 Sum Tyms Bytin Sum Tyms Bit
Feral Practice, 2020
HD video 26:21 mins.
Watch the film HERE
Written and filmed by Feral Practice
Voices: Esi Eshun, Fiona MacDonald, Jonathan Ashley
Music – Xenia Pestova Bennett, Atomic Legacies, ©Diatribe Records
Additional Sound: Feral Practice, John Holland, Darren Nixon
Partnered by Folkestone Fringe and supported with ACE funding
Sum Tyms Bytin Sum Tyms Bit draws resonance between themes of power, fragility and exploitation in Kent's landscapes, and the forces at work in Russell Hoban's cult 1980 novel Riddley Walker. In the post-apocalyptic world of the book, inhabitants of 'Inland' (East Kent) mythologise the fragments of a lost civilization destroyed by human ambition.
In 2020 we experienced profound insight into our own vulnerabilities, and the unpredictable consequences of our exploitative relationship with animals and the land. Sum Tyms Bytin Sum Tyms Bit, alive to the climate crisis, global disease vectors, species extinction and postcolonial extraction, explores how humans obliterate and control nonhuman worlds. It probes human sites of power in East Kent, including Faversham's explosive past, Thanet Earth's constant day, and the unfathomable nuclear futures of Dungeness. And in adjunct spaces to these behemoths, it finds wild creatures living circumscribed lives, often in isolation from their kind.
Esi Eshun: "The work plays with layers of awareness, where something not quite apprehended rubs up against more conscious evocations of place and meaning."
Sum Tyms Bytin Sum Tyms Bit lingers on the marginalized lifeworlds of the easily overlooked, through intimate footage of rare flora and fauna such as the Brown-Banded Carder Bee Bombus humilis and the Shining Ram's Horn Snail Segmentina nitida. Video, even if microscopic, can never access a nonhuman reality, but it brings this tiny snail to fill our screens - and perhaps our minds - with its blurry, shining dance.
With thanks to:
Nikki Gamman, The Bumblebee Conservation Trust
Chloe Sadler, Kent Wildlife Trust
Natural England, Stodmarsh Nature Reserve
Kent Wildlife Trust, Oare Marshes
The Dungeness Estate